On Saturday, for an early Labor Day BBQ, I used a briquette snake on my Weber Kettle to smoke some ribs: St Louis cut. I used SB Competition as the shake and finished them off with a SB Chipotle BBQ Sauce glaze. They tasted good but the meat was a little tougher than we liked. I suspect that part of the problem was the mediocre quality of the meat itself. The other problem was that I couldn't keep the temp in the Kettle low enough. Most of the smoking was betweeen 275 - 300 degrees (with both vents barely open). The last time I used a snake it was much cooler outside and it was easier to keep the temp lower. If I do this again on a warm day, I'll have to use a skinnier snake (this one was 2x2 briqs).
I think it's time for me to go back to my Brinkmann for ribs.
When the ribs were done (after only 3-1/2 hours), there was enough unburnt coal left in the snake, so I smoke a couple of chicken thighs, also: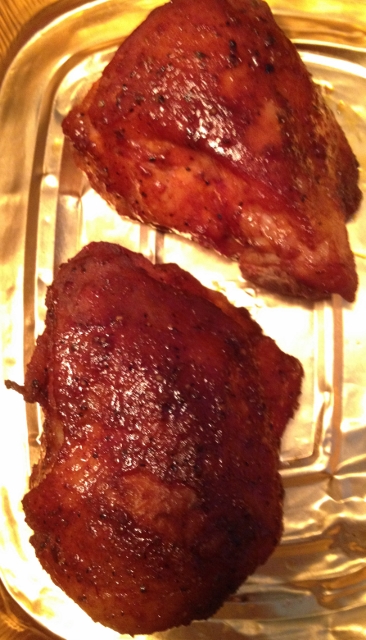 They came out well.