Since some of you folks are asking after Bar"G" gave such a great review to My UDS Brisket I decided to post it here for all to enjoy!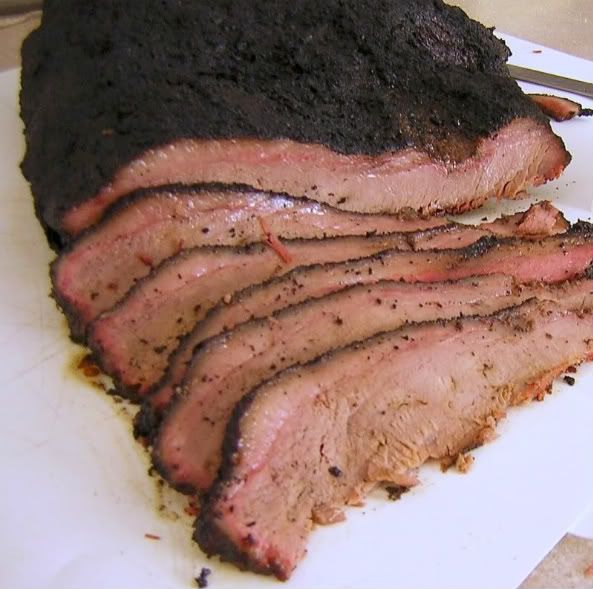 This is more of a method than an actual recipe.
Trim a packer Brisket and rub heavily with K- salt, Black pepper(table grind),and Mexican Oregano. Wrap in plastic wrap and store over night in the icebox.
Prepare your charcoal basket and add 3-4 chunks of Mesquite. Bring the UDS up to temp set to run at 230 deg.
Inject the brisket with BluDawgs Bovine Nectar.(recipe below)
Place on the UDS fat cap down and smoke 2 hrs. Flip the brisket fat cap up for 2 hrs. Remove the Brisket from the UDS and Place it in a Foil Pan fat cap up insert your temp probe and return to the UDS. Cook to an internal temp of 195 deg ,do a poke test if it passes pull it. Other wise check it every 5 deg temp increase till it passes.
Remove from the UDS foil over the pan allow to rest for 1 hr. on the counter. After the rest remove to cutting board, separate the point from the flat. I chunk up the the point and add Bull Dust. Drain the juices from the pan to a defating cup. Place the cubed point back in the pan and back onto the UDS for Burnt ends. Slice the Flat, add the pan juices back to the slices. That is the best BBq sauce in the world for a brisket. Enjoy!!
BluDawg's Bovine Nectar
This Injection adds moisture,and is a flavor enhancer it adds beefiness to the brisket .
Bovine Nectar
1 pkg McCormicks Aus Jus
3 cups Black Coffee
1 tbl Worcestershire
1/4 cup cannola oil
1 tbl BluDawgs Bull Dust *recipe to follow
Dissolve the aus jus with the coffee add the Worcestershire and the Bull dust. Heat over med heat 1 min remove from eat and allow to cool to room temp. Inject about every 1" and go directly to the smoker. Smoke it as you normally do.
Bull Dust
1/3 cup Paprika
2 tbl brown sugar
1 tsp dry mustard powder
4 tsp onion powder
2 tsp garlic powder
1 tsp Gebhardt's chile powder
Add all together. Mix well.