My approach is considerably different with regard to some others when making pulled pork but we all have our favorites. One thing for certain is that pulled pork is a fairly forgiving smoke.
Usually buying butts in the 8-9 pound range
I don't trim the fat
I rub just before going on the pit - I have found that rubbing the night before produces a "hammy" flavor from the salt which is okay if that is what you are looking for
I always go with a bone in butt
I'm smoking closer to 220 at the grid level and the times can vary butt to butt - generally 1-1/2 to 2 hours per pound
Don't mix my own rubs my preferences are SB Hog Waller, JH pecan, DP Dizzy Dust, and BBBR - I have been known to mix the rubs as well
I'm a heavy rubber - like lots of bark
Always use pecan for smoke
I don't mop
Hook up my Digi Q and go to bed
Wake up this morning, get some coffee and go out and smell the goodness
I have made my own Carolina sauce but I really like Blues Hog Tennessee Red - thin sauce just right for pulled pork
Then there is a totally different approach, my bride's favorite - Mojo Pulled Pork
Mojo Marinated Pork
Ingredients
4 1/2 cups fresh orange juice, divided
1 1/4 cups fresh lime juice, divided
Zest of 1 orange
Zest of 1 lime
1/4 cup finely chopped fresh oregano
1/2 cup garlic, coarsely chopped
1/2 cup olive oil
1 bone-in pork butt
Freshly ground black pepper
Combine 4 cups of the orange juice, 1 cup of the lime juice, zest and garlic in a large saucepan over high heat and reduce to 2 cups.
Remove from the heat and stir in the remaining orange juice, lime juice, oregano and olive oil.
Let cool to room temperature.
Marinate the pork roast in the refrigerator over night
Remove the pork from the refrigerator 30 minutes before cooking.
Place roast and marinade in a pan
Add fresh ground black pepper to taste
Cook at dome temp of 250 until internal temperature of 195-200
Occasionally baste with the juices in the pan
Wrap with HDAF and place in a cooler for an hour or so
Pull and enjoy with Mojo dipping sauce
Mojo Dipping Sauce:
8 cloves garlic, chopped
2 serrano chiles, chopped
3 tablespoons chopped cilantro leaves
Salt
1/2 cup orange juice
1/4 cup lime juice
1/4 cup extra-virgin olive oil
Using a mortar and pestle, mash the garlic, serrano, cilantro and a few pinches of salt until it becomes a paste. Add the orange juice, lime juice and oil and stir to combine.
Mojo Pork pics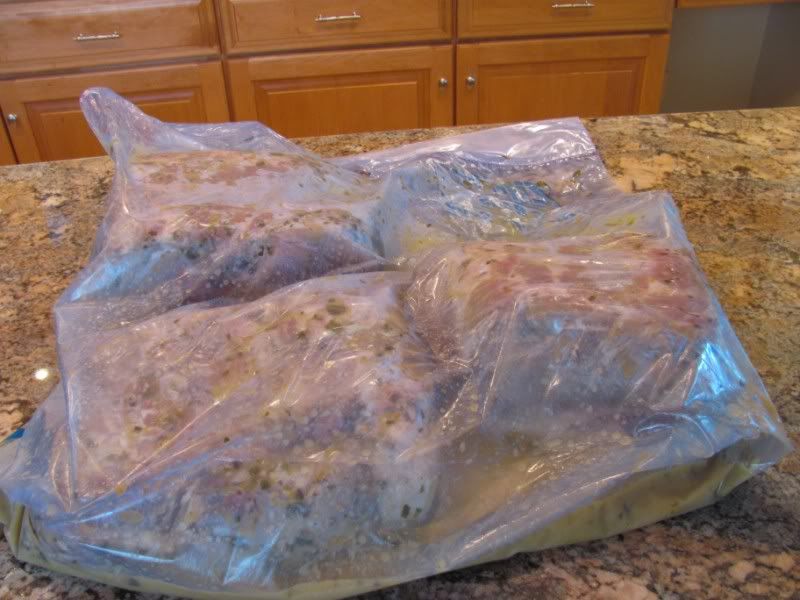 I have done this in a pan and without the pan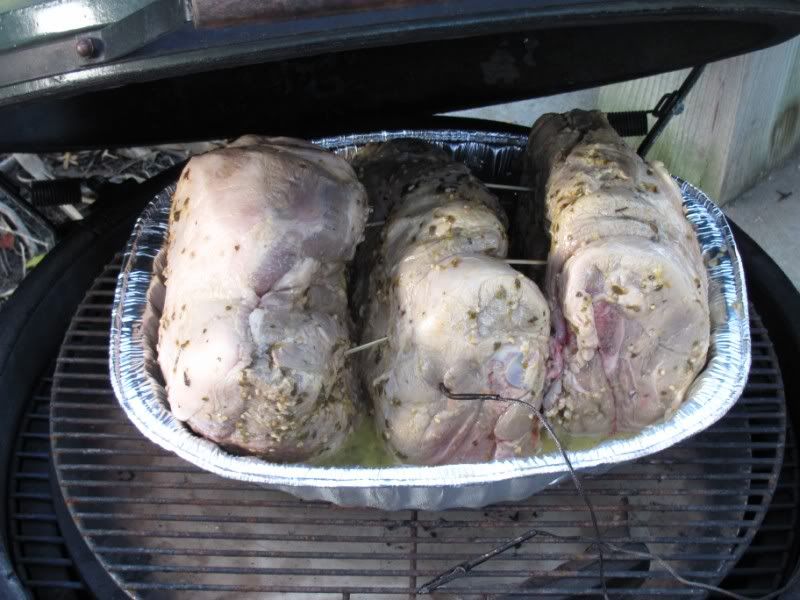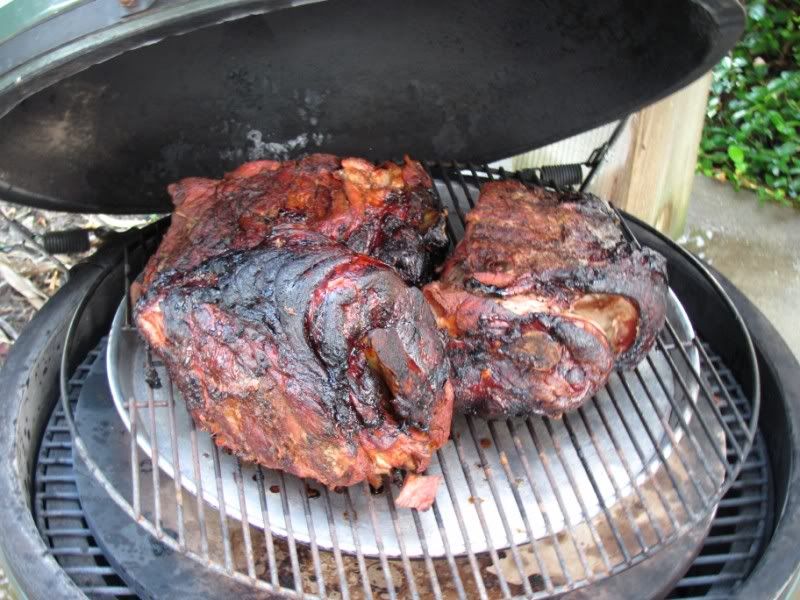 Mojo dipping sauce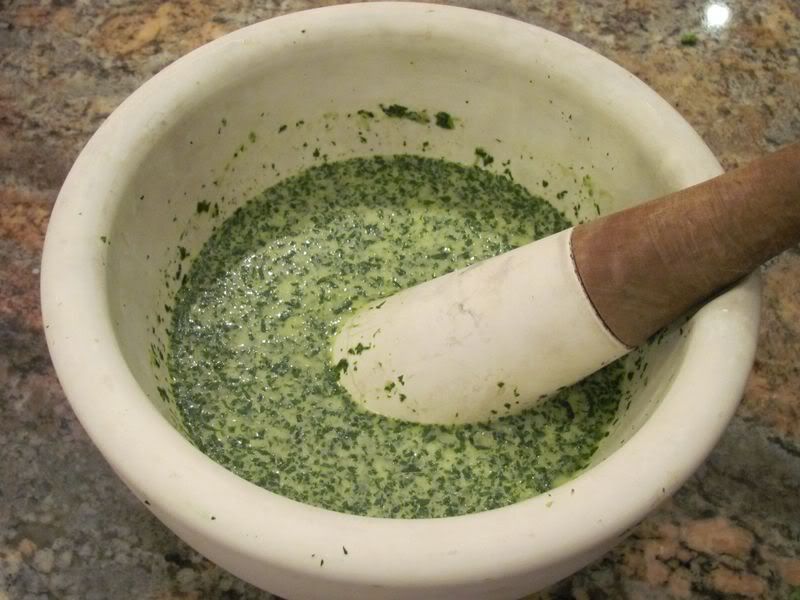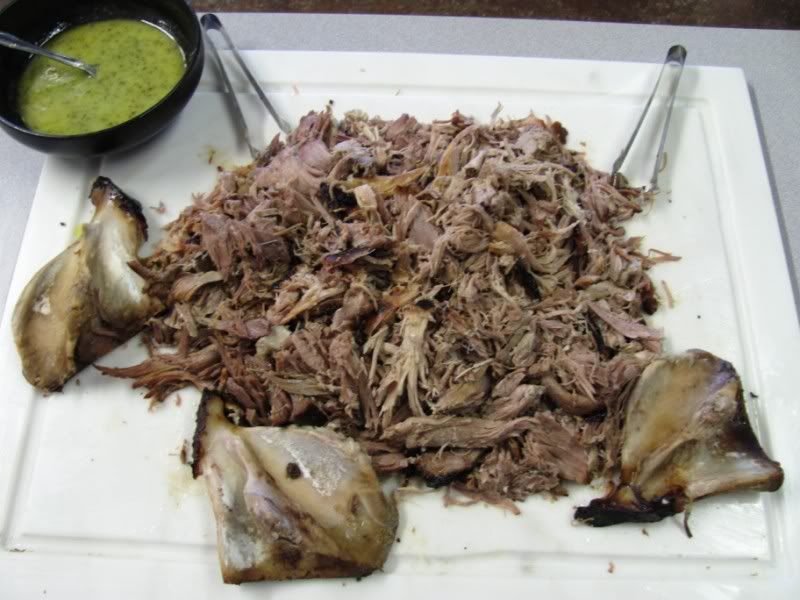 Folks at work getting tucked in