I'm glad to see that there is a lot of interest in building these drum smokers. They are easy and inexpensive to build and they produce some great Q!
Since this is a new thread dedicated to the barrel cooker, I'll tell ya again what I did on the first UDS I build.
I started out with new, unlined, open headed steel barrel. I used a knock out punch to cut two 1" intake holes and 2 1" exhaust holes. Used steel pipe nipples and electrical conduit nuts to secure the intakes and exhaust. Drilled 4 holes about 6" down from the top of the barrel and used 2" stainless steel nuts, bolts and washers to support the Weber cooking grate.
For the fire grate, I took 4 4" stainless lag bolts, nuts and washers and bolted them, as legs, to a Weber charcoal grate. ALthough, I have built a charcoal basket now, at first I was just using the coal ring from my WSM.
About the only things that I've seen from various discussions about these builds is that you should allow enough room above your food grate for the height of what you want to cook and to try to keep the fire around 24" under the meat. Other than that anything goes.
Unfortunately I'm in Bogota and don't have many pics of the UDS on my laptop... I did upload the few I had to share with ya...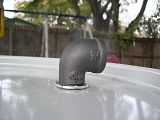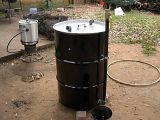 After those pics and a few test burns on the first build, the second, I changed just a few things... I did not add the upright pipe for the intake as I could not get it to draw correct as the pipe was probably too long. I also added two additional exhausts to the lid...
If anybody is interested, I will try to get some more pics when I get home...
So how are the rest of ya planning on building yours???