This was my second cook using the new Kamander kamado-style grill. Since I recently smoked baby back ribs on my Weber Kettle (and claimed it was my last smoke of the season), I thought baby backs on the Kamander would be a good comparison. I used a 3-1/3 lb rack, cut in half and we used SB Competition Rub on it.
Learning from my previous mistakes, I didn't skimp on the coal (Char-Broil recommends using a rounded drip pan worth of lump, for fuel). Since I wanted lower temps (I was shooting for 250 degrees) I just used 2 starter squares and put them near one end of the pile (on the right) and distributed my wood chunks to (hopefully) get some sequential smoke. Here's what the coal grate looked like: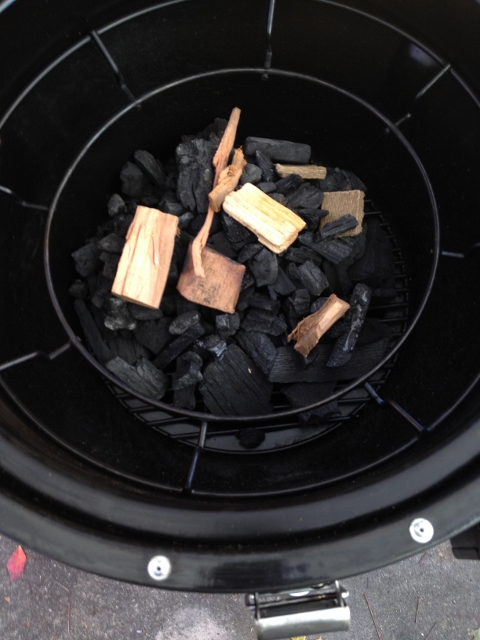 Of course, I had to make at least one mistake. This time, as a carry-over from my kettle smokes, I put some hot water in the drip pan, right after I started the fire (in the kettle, the coal is on the same level as the drip pan with water). Even with full-open vents, the food grate temperature wasn't going above 155 degrees. It seemed that all my heat energy was going into boiling the water. So I dumped out the (now very hot) drip pan water and then everything went fairly smoothly.
With ocassional vent tweaking, the temperature was in the 250 – 275 degree range for most of the 3-hour cook. With about ½ hour to go, I glazed the ribs with SB Chipotle BBQ Sauce. Here they are, ready to take off the grill: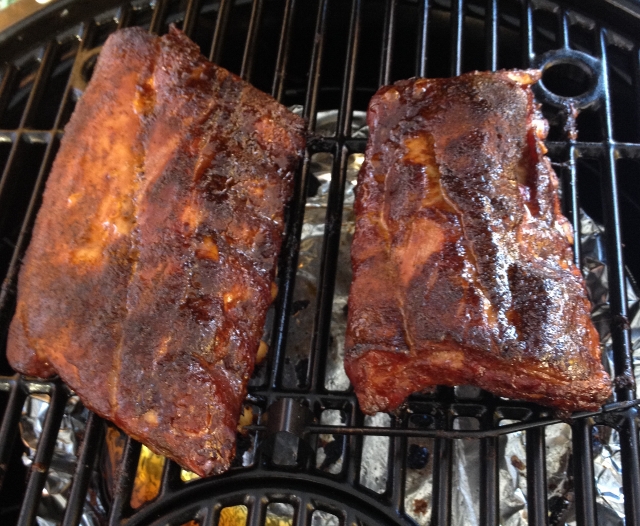 They were very good. We had them with green beans and mac & cheese: