Spent the weekend in Memphis. Nice town with a bunch of stuff to do - museums, riverfront, Beale Street, etc. We spent about 2-1/2 hours at the Pavilion at St. Jude's hospital for children. What an amazing place. Our grand niece went through a three year treatment program for leukemia and has been in remission for over a year - yippeeee. If Danny Thomas isn't in heaven for all that he did for curing childhood cancer, we don't have a chance.
We did the walk up and down Beale Street and ducked in a few places without downing any adult refreshments. Lots of folks with their kids this weekend that were getting a burger or whatnot before going to Fedex Forum for a monster truck show. Excellent that you could bring your kids or grand kids to Beale Street for a look around and check out what's going on. I would never think of bringing a kid to Bourbon Street.
Okay - on the the Q' Review. I don't like giving negative reviews but I can't recommend Rendevous. They are evidently famous for their ribs so I ordered them. They come with beans and slaw. The ribs were very dry, and someone needs to hide the vinegar. Because the ribs were so dry, I tried some of their sauce. The sauce was overpowered with vinegar as well as the beans (probably put their sauce in the beans), and the slaw was like drinking vinegar from the the bottle.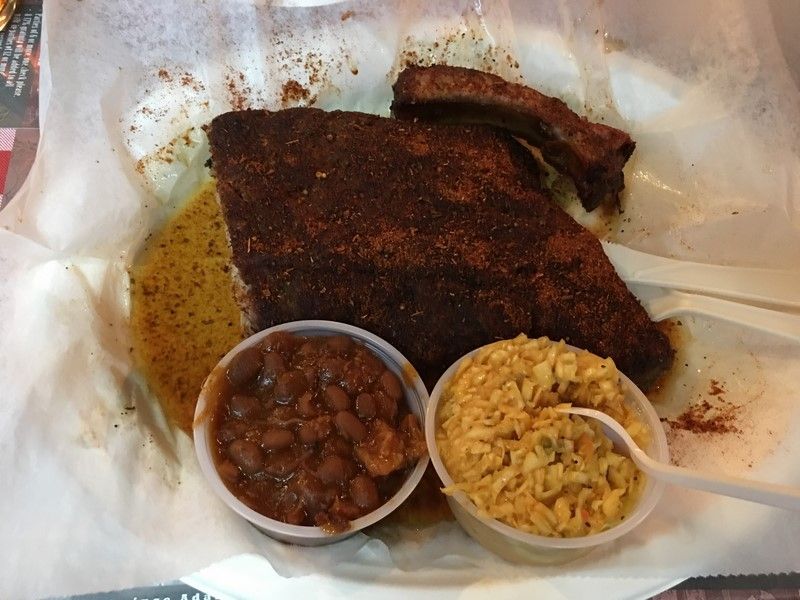 My bride and traveling companion had the brisket - she out ordered me. It wasn't Texas brisket but it was moist, tender, and tasty.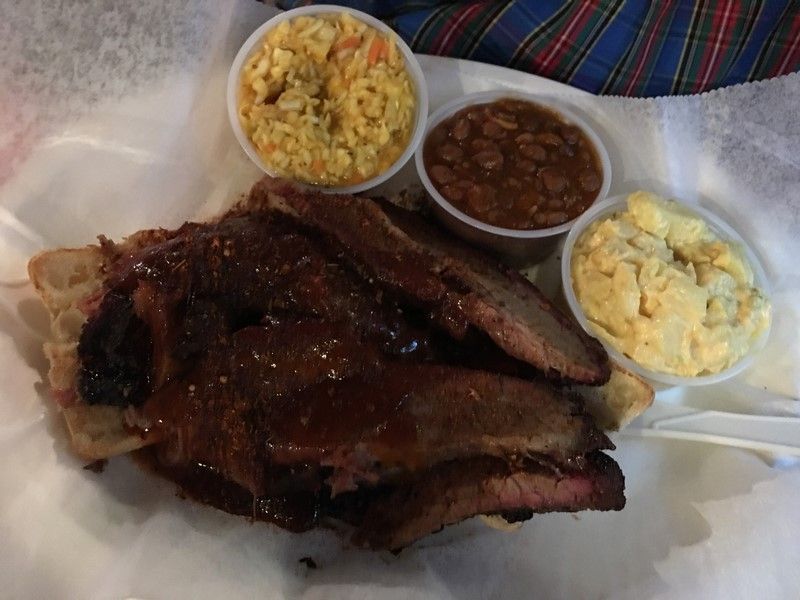 The potato salad was good. But when you go to a BBQ joint and the Sweet tea and potato salad rank above the ribs, something just isn't right. A friend told me that what we had was representative of Memphis BBQ. Oh by the way - they were serving a sampling of red beans and rice when you sat down I guess cause it's Mardi Gras season. Pass on that as well -full of vinegary sauce.
Outstanding visit with great people but pass I'll pass on the Q.
We didn't run into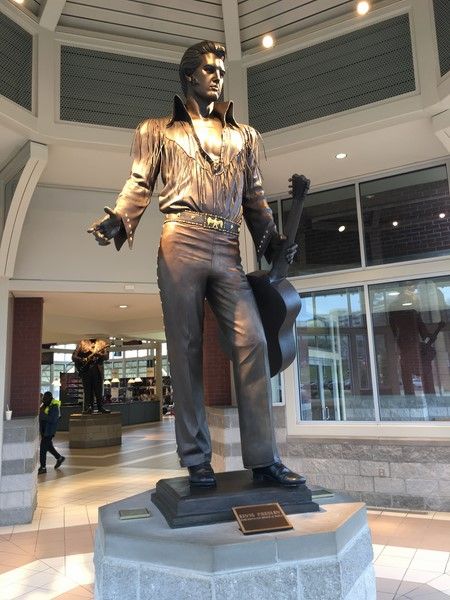 or BB King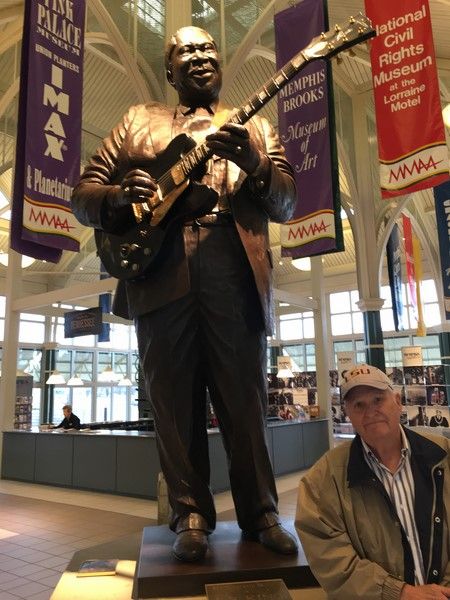 I didn't know the Pyramid had been turned into a Bass Pro Shop - wow!! The inside is excellent with and a hotel and all the usual outdoor stuff. The Ducks Unlimited section is real nice. We road the elevator to the observation porch.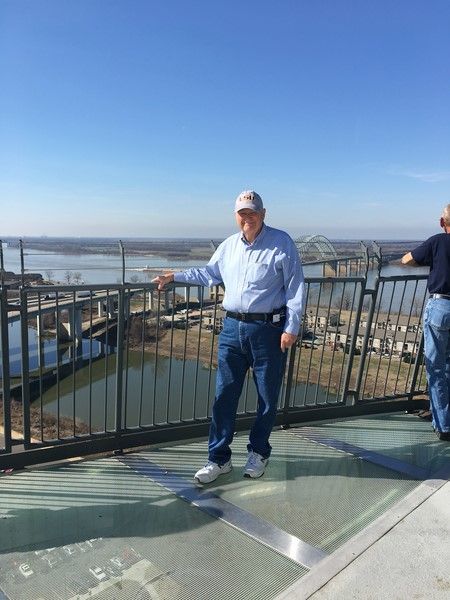 Panoramic view from the top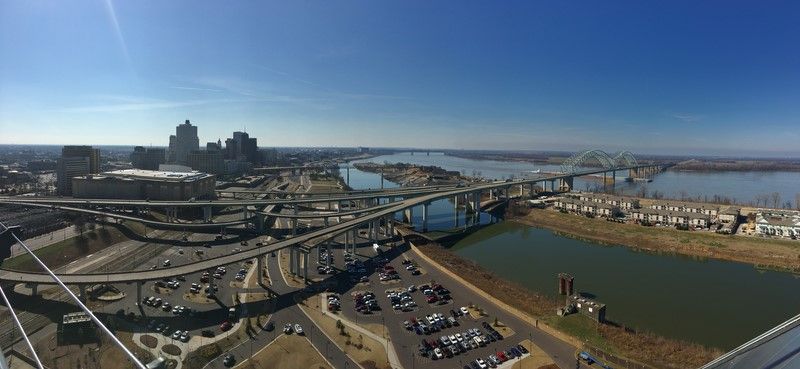 You can cross the bridge to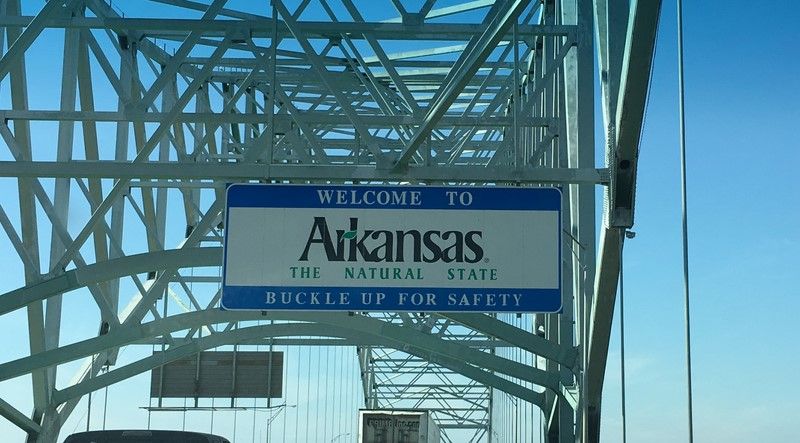 And come right back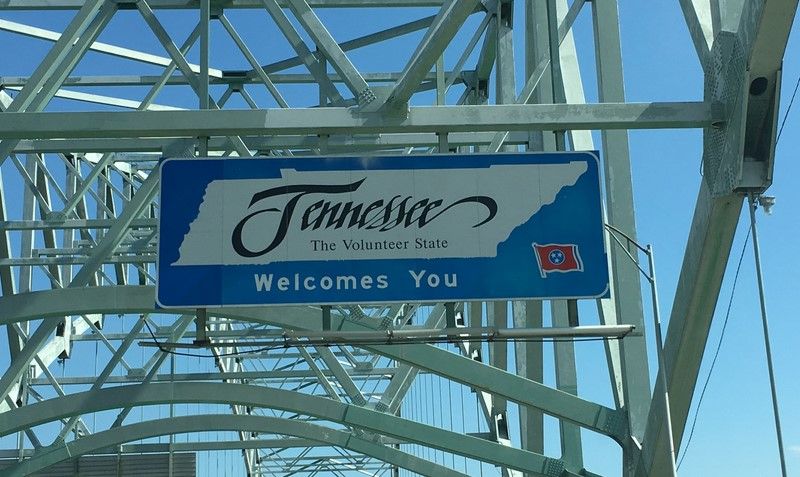 My traveling companion says hello - yes, I know I married up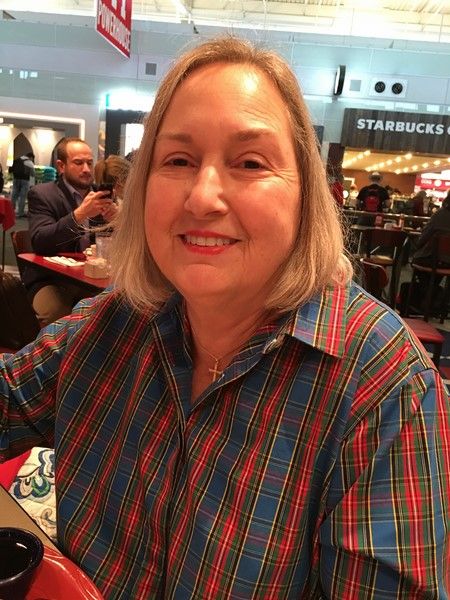 Cheers